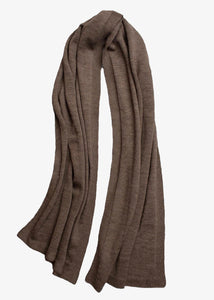 Description
Meet the Merino Scarf. Lightweight and extremely versatile, this wide jersey knit scarf can be worn traditionally to keep the neck warm or as a shawl slung across the shoulders. Scarves and other matching knit accessories are the perfect gift. Tailored Industry's merino scarf is practical style and comfort rolled into one garment that will last a lifetime. There are a million ways to wear it– show us how you style your Merino Scarf. Always 3D Knit™ on-demand in Brooklyn, NY.
Read about our innovative return policy here.
Details
100% Merino Wool
Lightweight

1x1 Seed Stitch Trim
Care Instructions
Dry Clean Only

Sizing
How It Was Made
1

Yarn Sourcing

2

Knitting

3

Finishing

4

Washing

5

Pressing

6

Quality Control
Yarn Sourcing
From yarn sourcing to final production, our approach to manufacturing is environmentally friendly from end to end. We source the highest-quality yarns from suppliers that are typically family owned and provide fiber traceability.
Knitting
Every garment is knit in our Brooklyn factory using innovative 3D knitting machines that create less than 1% excess material and come out the machine as one complete piece. No sewing or linking required!
Finishing
After knitting, our finishing team inspects every piece by hand, ties in the ends of your garment and prepares it for wash.
Laundry
Laundering your garment is a critical part of our post-production processes. Our washing and drying machines are programmed with detailed recipes specific to each yarn fiber content. This process ensure a precise fit and optimal hand feel.
Pressing
Next, garments move to our pressing department. The hot steam allows our pressing team to remove wrinkles and set the garments measurement. Then, the vacuum inside the table is applied to permanently set the specs of your garment and prepare for packing.
Quality Control
Each garment is inspected by hand for defects and damages, allowing us to ensure that we only ship the highest quality pieces.
Highlights


100% Merino Wool: Certified by Bluesign
Made from 100% Merino wool, our merino products provide premium warmth and comfort, with temperature-regulating properties to keep you cozy in cold weather. Inversely, wool is also UV resistant, moisture wicking, and naturally antimicrobial-- allowing you to cool off when needed. As a hypoallergenic fiber, our Merino is ideal for those who suffer from asthma or allergies, or anyone who prefers a more sustainable fiber option


The Earth's Fiber
We source our extrafine merino wool from Biella Yarn, located outside of Milan, Italy.


Seamless 3D Knitting
Our 3D knitting machines are custom built to produce knit garments in one complete piece; no seams, no sewing, no waste. All of our garments are made with the perfect blend of luxury design, technology-driven construction and resilient craftsmanship.


Produced On-demand in the USA
Our on-demand technology platform eliminates waste by producing all products after they are ordered. The moment you purchase an item your order is queued directly into our production schedule — truly a supply chain to be proud of and everything is Made in the USA.