Our Shop
On-demand 3D knitting™ is a sustainable production method that is bringing garment manufacturing back to the United States. Our Shop showcases a small assortment of products that can be made in our facility in Brooklyn, NY -- giving a whole new meaning to Made in USA.
Experience Tailored Industry
Visit Our Factory Outlet Store
Our factory outlet store is much more than a store. Our team has over 100 years of knitwear knowledge combined. Visiting our outlet store is an engaging experience that often includes in conversations about where we source our yarns, how we produce our products. It usually starts with "what is on-demand 3D Knitting?" You can also view live production from the shop itself, come see for yourself!

Our address: 88 35th street 3RD Floor Brooklyn, NY 11232

Hours:
Wednesday - Friday: 11AM - 5PM
Saturday - Sunday: 1AM - 7AM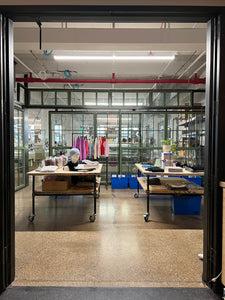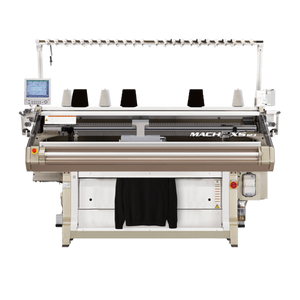 Tour our 3D Knitting™ Factory
At our 3D knitting™ factory we produce all of our garments on-demand. Our process generates less than 1% excess material compared to the industry average of 20%. Our 4-needle bed machines provide a sustainable alternative to cut & sew which is primarily labor oriented, lacking transparency and traceability. Our software platform serves as a digital supply chain, from design through production. Brands can design knitwear and launch the products online with no inventory risks. Stop by for a tour to see for yourself!
Learn about our On-demand Technology
Our proprietary technology platform empowers brands to design and produce knitwear without the risk of holding inventory. An entire knitwear line can be launched and produced from your phone!
With on-demand production we only knit a garment once someone orders it, meaning we never have stock or inventory. We produce what is needed when it is needed, with short delivery times due to efficient knitting and reduced post production. It is our goal to redefine the way clothing is made with an ethical, forward-thinking and value driven supply chain.