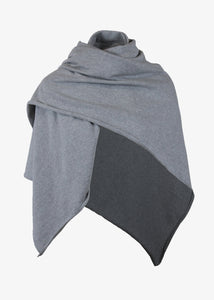 Description
Sally, our new cotton scarf, is a perfect stable for your wardrobe. Versatile, lightweight, and breathable, Sally is the perfect laying essential for all functions and all types of weather. Our 100% Organic Egyptian cotton makes the Sally scarf an instant classic. Pair the Sally with a swimsuit for a perfect cover-up, or with a jacket for a cozy look! Each scarf is knit on-demand by our 3D Knitting™ machines in Brooklyn, NY.
Read about our innovative return policy here.
Details
100% Egyptian cotton, spun in Italy
Lightweight 
Jersey Knit
.75 Links Links Trim 
Care Instructions
Sizing
How It Was Made
1

Yarn Sourcing

2

Knitting

3

Finishing

4

Washing

5

Pressing

6

Quality Control
Yarn Sourcing
From yarn sourcing to final production, our approach to manufacturing is environmentally friendly from end to end. We source the highest-quality yarns from suppliers that are typically family owned and provide fiber traceability.
Knitting
Every garment is knit in our Brooklyn factory using innovative 3D knitting machines that create less than 1% excess material and come out the machine as one complete piece. No sewing or linking required!
Finishing
After knitting, our finishing team inspects every piece by hand, ties in the ends of your garment and prepares it for wash.
Laundry
Laundering your garment is a critical part of our post-production processes. Our washing and drying machines are programmed with detailed recipes specific to each yarn fiber content. This process ensure a precise fit and optimal hand feel.
Pressing
Next, garments move to our pressing department. The hot steam allows our pressing team to remove wrinkles and set the garments measurement. Then, the vacuum inside the table is applied to permanently set the specs of your garment and prepare for packing.
Quality Control
Each garment is inspected by hand for defects and damages, allowing us to ensure that we only ship the highest quality pieces.
Highlights


100% Cotton
Mur cotton is from Filmar, Italy, and sourced from Egypt. It is machine washable, doesn't shrink, and has a soft, cool hand. The long fibers of this material make it super durable without sacrificing comfort. The combination of the spinner's skills and expertise, along with the technologies used throughout the processing cycle, create a beautiful and luxurious yarn.


Better Cotton Initiative Certified
We source our egyptian cotton from Filmar SPA, located outside of Milan, Italy. Filmar is certified by the Better Cotton Initiative.


Seamless 3D Knitting
Our 3D knitting machines are custom built to produce knit garments in one complete piece; no seams, no sewing, no waste. All of our garments are made with the perfect blend of luxury design, technology-driven construction and resilient craftsmanship.


Produced On-demand in the USA
Our on-demand technology platform eliminates waste by producing all products after they are ordered. The moment you purchase an item your order is queued directly into our production schedule — truly a supply chain to be proud of and everything is Made in the USA.